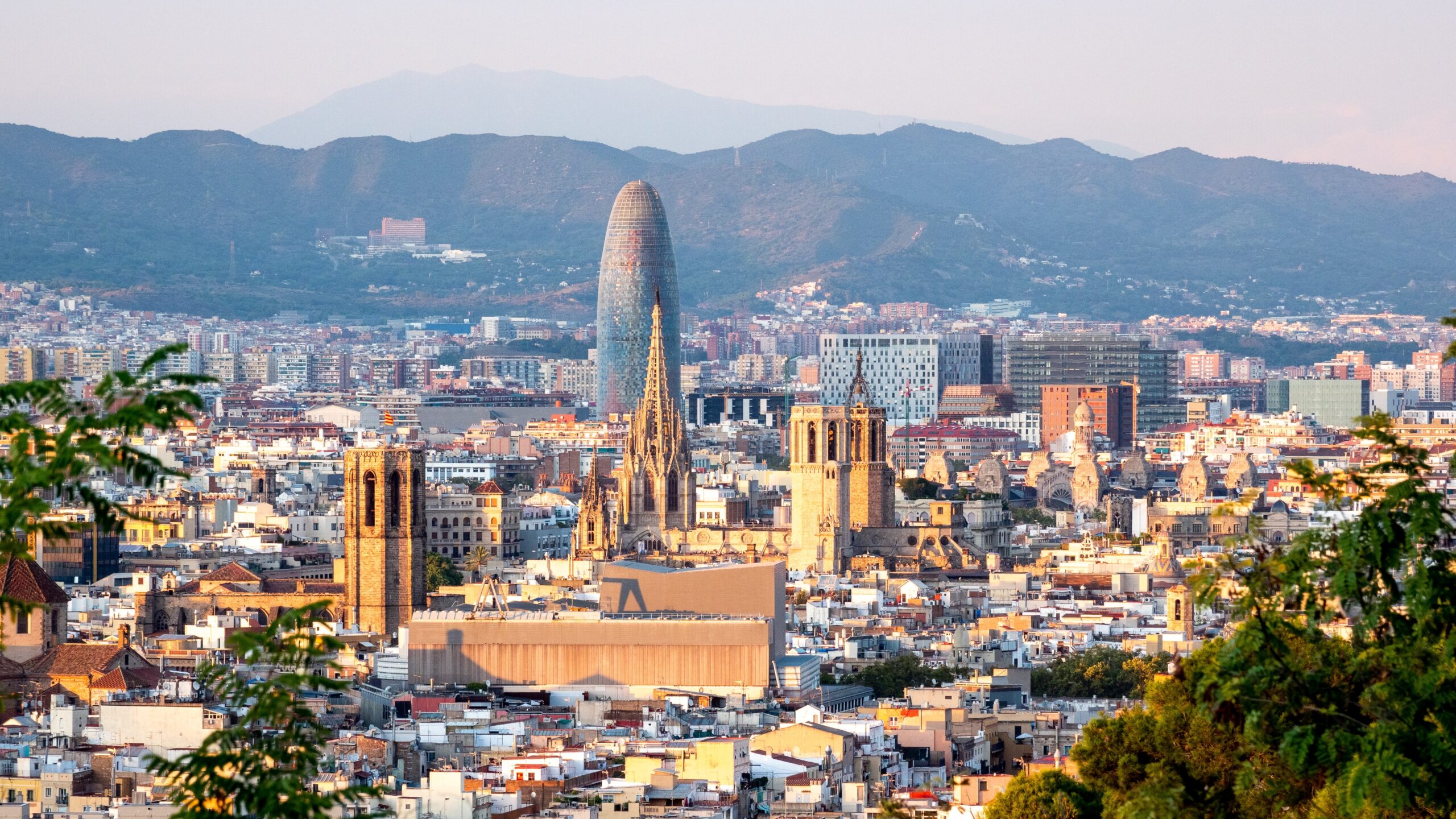 Five Things to See and Do in Barcelona, Spain
Barcelona is one of Spain's most visited and celebrated cities. It is the capital of the autonomous region of Catalonia and stands out from the rest of Spain with culture and pride of its own. In Barcelona, life and art are inseparable. The city has been marked by great artists and architects, from Gaudí to Dalí, from Joan Miró to Pablo Picasso. Barcelona is a dream inspired by nature. It was born from the imagination of modernists who opposed the harsh lines and cold logic of the industrial revolution aesthetic. Instead, they embraced nature's undulations, rhythms, and lyricism, making Barcelona one of the most beautiful cities in the world. We know you'll fall in love with Barcelona once you experience it. If you have a couple of days to spend in this amazing city, here are five things to see and do that you won't want to miss.
1. Gaudí, Gaudí, Gaudí
The name of Antoni Gaudí is almost synonymous with Barcelona. This Catalan-born architect revolutionized the face of the city forever with his unique and creative designs. Barcelona is home to nine UNESCO World Heritage Sites, seven of which are Gaudí's creations. Gaudí took modernism to the next level and created a whole new style of architecture that came to define Barcelona's aesthetic. Gaudí's unique style lies at the intersection of Modernisme — the regional Catalan take on Art Nouveau, and the Neo-Gothic styles, inspired by aspects of cubism and surrealism.
Visit Casa Vicens, Gaudi's first revolutionary design. Mixing Moorish and oriental styles with eclectic materials, Gaudi created a new architectural language, unlike anything that came before it. His most famous works — Casa Milà and Casa Batllo — are located on Passeig de Gràcia, one of Barcelona's best-known boulevards. Casa Milà is also known as "La Pedrera" or "The stone quarry" because of its naturalistic façade that resembles a stylized quarry. The house reflects Gaudí's Art Nouveau period and one of its most surprising features is the fact that its rooftop statues inspired the look of Darth Vader and his Strom Trooper's masks. Casa Batllo is part of the "Block of Discord" — a conglomeration of three remarkable houses designed by three of Barcelona's biggest modernist artists. Casa Batllo is a masterpiece of rounded lines with spectacular interiors that forever changed the idea of what apartment living could look like.
Take a stroll through the magnificent Park Güell— an almost mythical spot in Barcelona. As you enter its gates, you'll feel like you've left planet Earth and arrived on a new and surprising planet, full of abstract art and symbolism. Begin your exploration by walking through the grand reptilian-like pavilions before encountering the famous brightly-colored lizard sculpture on the stairs. Wander through organic-looking columns of sculpted earth to a beautiful open terrace with undulating benches. Here, you can take a seat on the mosaic-covered benches and enjoy brilliant views over the entire city of Barcelona all the way to the Mediterranean Sea. A word of advice: it's a really good idea to book tickets to Park Güell online well in advance. Waiting in line to buy tickets to this famous attraction can take hours almost any time of year and you run the risk of wasting valuable time that you could be spending enjoying Gaudí's bold and beautiful works of art.
2. Las Ramblas
The poet Federico García Lorca once described this iconic lane as "the one street in the world I didn't want to end". "La Rambla" or "Las Ramblas" is Barcelona's most famous and most visited avenue. It is often referred to in the plural because the avenue is actually a series of connected streets that span the length of 1.2 km, connecting the central Plaça Catalunya with the Mediterranean Sea. Now the main artery of the city, this street was once at the limits of Medieval Barcelona, right outside the walls of the Gothic Quarter. Las Ramblas divide the two most central districts of Barcelona's old town: the Gothic Quarter on one side and the shabby-chic area of El Raval on the other. This street is a natural starting point for taking in Barcelona's charm. A walk down this iconic boulevard is very rewarding as it flaunts a large selection of Barcelona's attractions: Mercado de la Boqueria, the Liceu Theatre, Miró's mosaic, and the Monument of Columbus. You can also find several places to eat and drink among the many pavement cafés and gorgeous colonnades of slender trees. Because the streets are crowded, often with tourists, on Las Ramblas, you'll always find playful performance artists and a boisterous carnival atmosphere that give the streets of Barcelona a festive twist.
One of the gems that can be found on Las Ramblas is the Mercado de La Boqueria, a vast and beautiful historic marketplace dating back from the 13th century. This popular food market sells an abundance of fresh fruit, vegetables, meat, fish, and fresh seafood. This is the first of Barcelona's local markets, which opened in March 1840. Walk along the charming and imaginative stalls filled with mountains of delicacies. Grab a delicious fruit juice made with exotic maracuya or indulge in savory seafood tapas washed down by a glass of cold Spanish beer. Sample morsels from across Catalonia, such as artisanal Jamon made from forest-roaming pigs fattened to perfection on herbs and acorns. As a desert, gorge on gourmet pancakes, mountains of sweets and nibbles, jelly beans, and traditional Spanish treats. Mercado de la Boqueria is the perfect place to savor Barcelona's color, history and vibe.
3. Gothic Quarter (Barri Gotic)
Lose yourself in the oldest part of town, where each turn reveals a new layer of the city's two millennia of history. The Barri Gotic is certainly the most touristy part of the city, and its popularity is well deserved. This atmospheric medieval quarter has an almost magical old-world ambiance. The area has labyrinthine alleys that lead past Roman ruins, picturesque plazas, and Catholic churches, as well as many funky boutiques and cool bars. Visit the Barcelona Cathderal — a Catalan-Gothic masterpiece finished in the 15th century on the site of a Roman temple. Enter the cathedral for a glimpse of its intricately decorated patios and beautiful cloisters. Behind the cathedral, you'll find the hidden ruins of the Temple d'August, the original Roman temple that existed on the site before the cathedral was built. You'll find information about Barcelona's history as a Roman colony and the origins of this city's name inside the temple. After your visit to the Roman temple, walk the narrow streets of El Call, Barcelona's old Jewish quarter, one of the most beautiful areas in the neighborhood. Spend some time in Plaça Reial, a famous square lined with tall palm trees, home to a plethora of bars and restaurants, and to Gaudi's very first projects after graduation — the street lamps that light up the square.
For a local treat, stop for paella, seafood, tapas, and drinks at Barcelona's oldest restaurant, the Can Culleretes. Tucked away on a small street in the Gothic Quarter, this restaurant has been serving delicious Spanish and Catalan dishes since 1786. Here, you can indulge in delicious comfort food paired with gorgeous house wine.
Shopping is always a good option in Barri Gotic. The winding streets of this historic place are peppered with some of the most unique and interesting boutique shops you've ever seen. From quirky vintage shops and independent names to all the big brands, in the Gothic Quarter, you'll find everything you need.
4. Montjuïc
The neighborhood of Montjuïc sprawls over a broad hill overlooking Barcelona. This area of the city resembles a large garden laced with trails and historic treasures. One of its treasures is the MNAC (Museu Nacional d'Art de Catalunya), the National Museum of Catalan Art, hosted in the magnificent National Palace. The first floor of the museum flaunts a superb modern art collection. Here you'll find extraordinary works by Picasso, Dalí, Ramon Casas, and many more of Barcelona's most influential artists of the late 19th century and early 20th century.
Montjuïc is also home to the "Magic Fountains", one of the most popular tourist sites in Barcelona. Standing at the foot of MNAC, close to Plaça Espanya metro station, the fountains are famous for their light and music shows that light up the mild Spanish evenings. The shows happen every 30 minutes from Tuesdays to Sundays and feature a whirlwind of 3,620 water jets sprouting majestically to classical music and pop hits, lit with every color of the rainbow.
Another fascinating tourist destination in Montjuïc is Poble Espanyol, a mock-Spanish village designed for the 1929 International Fair. The "village" was designed to showcase the various regional styles of architecture and various cultures of Spain. This is a living museum of Spanish culture where you can visit artisan shops, flamenco tablaos, restaurants, bars, and clubs. It's like seeing the whole of Spain in the span of one afternoon.
Alternatively, you can visit the Joan Miró Foundation, a vast museum celebrating one of Barcelona's most famous artists. This museum houses 14,000 of Joan Miró's creations, whose life's work was to embody the national soul in bold abstract paintings and sculptures.
As a last treat, take a cable car to the top of the hill for spectacular views of Barcelona, the sea, and the surrounding countryside.
5. La Sagrada Familia
This UNESCO-listed masterpiece is last on our list but first in our hearts. La Sagrada Familia, though also being one of Gaudí's works, makes it into a category all of its own. The sheer scope and originality of this project recommend it as one of the most spectacular places to visit on the planet. This is Gaudí's masterpiece, his greatest project and vision. Fusing Art Nouveau and Gothic styles with a rich abundance of natural motifs, the Sagrada Familia is a cathedral like no other. Every façade offers an intricate canvass of reliefs and sculptures paying homage to God and the world he created. The honey-combed towers reach impossibly high in the sky. The exterior is extremely impressive, but it's only half the story with the Sagrada Familia. The interior is elegant and refined, with white tree-like columns climbing up to the kaleidoscopic roof while hypnotizing light filters through the delicate stained-glass windows. Its sheer other-worldly beauty makes this Barcelona's most visited attraction. At Sagrada Familia, you can truly feel in awe of creation.
One interesting detail about the cathedral is that Gaudí, though working at it exclusively for 16 years, never got to see his masterpiece finished. The building is scheduled to be finalized in 2026, 100 years after Gaudí's death. When finished, the central spire will reach 170 meters, just one meter under Barcelona's coastal mountain of Montjuïc. In December 2021, a crowning 12-point star was placed on top of the central spire of the Sagrada Familia.
To visit the interior of the Sagrada Familia, we advise you to book tickets online well in advance. The line to buy tickets at the entrance often goes all the way around the cathedral, so buy your tickets in advance here. Revenue from the tickets goes to finishing the cathedral.